We have the right products for every body
Nature's Mirror
Hydrating System
* Fine dry lines around eyes and mouth?
* Cheek area is dull, dry, taut?
* Sensitive to sun, wind, and pollution?
Nature's Mirror
Oil-Free System
* Oily sheen on forehead, nose, chin, and cheeks
* Enlarged pores, blackheads
* Pimples and spots frequently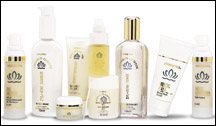 Beauty & Outer Nutrition
Looking and feeling your best means nourishing your body inside and out. That's why HERBALIFE created Outer Nutrition -- a world of personal-care products that complement our nutritional programs to improve the appearance of your body, skin and hair.
"Through the years I've tried numerous skin-care regimens and was never truly satisfied until Herbalife offered the Dermajetics program. I immediately noticed a wonderful new softness to my skin. As I continued using the products I noticed a gradual improvement and smoothing out of fine lines, wrinkles, and large pores. They became much less noticeable and my complexion took on a more youthful appearance." -- Rosalee Lorenz

Inspired by nature and perfected by advanced technology
Nature's Mirror
Balancing System
* Slight oily sheen on forehead, nose, and chin
* Drier cheek area
* Occasional pimples and spots